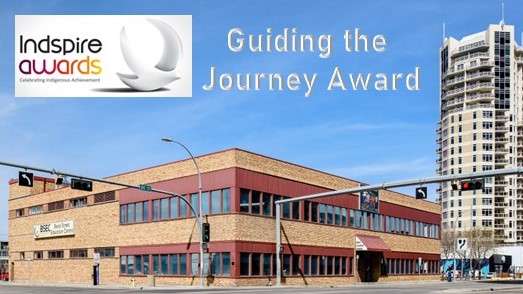 Whether it's an afterschool club, a sports team, or an arts & drama group, organizations can make a huge difference to the lives of Indigenous youth.
We celebrate the ways in which they help Indigenous young people connect with their culture, explore new paths, and stay healthy in mind, body, and spirit.
We created the Guiding the Journey Award for an Organization to celebrate these groups – and we're proud to announce that the Boyle Street Education Centre (BSEC) is the 2022 recipient of this award!
The BSEC is a public charter school in Edmonton, AB, that's been successfully engaging over 200 Indigenous students per year since 1996. It's designed to serve high-risk students with an innovative combination of integrated hands-on and traditional learning.
Students can learn at their own pace while still keeping achievable goals in sight, using a commercial kitchen, fully stocked music room, woodworking studio, fashion studies, art or cosmetology classroom, and full-sized gym and workout centre with a basketball court.
BSEC uses a trauma-informed, reconciliation-first approach to accept students for who they are, meet them where they're at, and nourish & heal their spirits. BSEC wants to give youth a home where they don't just succeed academically, but can also feel safe, appreciated, valued and seen.
Congratulations to everyone who makes the BSEC what it is!